Express iPhone, iPad, and Mac Repair London
Apple iPhone, iPad and Mac repair services London by iFixExpress UK. We offer professional repair and support solutions for Apple products. Popular services included Screen repairs and replacement, hard drive repairs and data recovery, water damage dry out services to name a few.  All repairs are carried out by our certified iFixExpress Technicians not only in London, Essex, and Kent, but also nationwide through our dedicated partners. We now offer a while-u-wait repair service on many products at our NEW while-u-wait walk-in repair workshop Central London.
With todays busy lifestyle its important to maximise productivity, and having a broken personal item can be frustrating, and time consuming when it comes to getting it sorted. iFixExpress is on hand to assist you daily, and all work carries our 90 days warranty on all parts and labour. We are London's number 1 desk side repair company, as voted for by the "London Evening Standard".As the popularity of gadgets and smartphones continue to grow, so does the demand to provide professional, and reliable customer support and repairs hat are tailored to our busy lives.With iFixExpress you can have your beloved gadget repaired in the comfort of your own surroundings while you get on with other things.Along side popular repairs like iPhone, iPad, iPod, screen replacements, we also offer a wide range of repair services for the Samsung Galaxy, Amazon Kindle Fire, and HTC smartphone handsets.
iFixExpress has a solid track record in the repair & support of the Apple Macintosh. items like the Macbook Pro, Macbook Air, and the iMac. We also have our own in house team of Windows based PC and Laptop exerts who are also on hand daily for everything from Laptop screen repairs, to home wireless network setup, and installation. Whatever the issue you are facing, iFixExpress has got the answer.
iPhone and iPad Screen / Digitiser Replacement 
iPhone/iPad Dock Connectors and battery Replacement
Macintosh on-site  Support Solutions
Macbook Screen and Keyboard Replacements
Liquid Damage Repair Services 
Data Recovery and hard Drive Solutions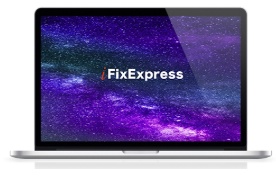 iFixExpress is the fastest for Mac, iPhone, iPod, and iPad repair in London. Our technicians are on call daily for all your Apple repair needs. Why wait days for an appointment to get you iPhone, iPad, or Mac repaired! We can come to you the very same day in and around London and fix your item.
It's all too often heard by our technicians how important your Macbook laptop or iMac desktop is to you. Its relied apon on a daily basis  for business or personal needs, to many it is the backbone to there daily life. The same is said of the iPhone and iPad. If the unthinkable should happen then there is no doubt a swift solution is required.

iFixExpress have been in the Apple repair business since 2009 and our the premier onsite partner for Mac Repair in London, we are reliable, professional, and reasonably priced. We have  technicians available on short notice and can be with you the very same day in most cases in north, south, east, and west London. Most iPhone, Mac, and iPad repairs can be carried out at your home, hotel room, or even place of business. Hassle free, all our repairs carrying our 90 days warranty on parts and labour as standard.
If you are experiencing technical issues its difficult to know who to turn to When you need a quality iPhone, iPad, iPod, or Mac repair in London. With so many sites offering these kind of services its difficult to know who to trust! All of our technicians are highly trained, polite, and responsible and aim to offer a quality  service within the fastest time possible, all this backed up by our 90 days warranty, we also have representatives in Birmingham, Glasgow, Edinburgh, Brighton, Southampton, Manchester, Newcastle, Sheffield, Nottingham, and Leeds. iFixExpress are also a frequent poster on the Apple support communities so come say hi. So if your looking for a professional outfit, look no further than iFixExpress.
Mac Repair London

iFixExpress Offer the fastest turn around for Mac repair in London. We provide professional, dedicated Macintosh support  and repair services daily via our on site support team throughout the capital. Our Mac repair services in London are affordable, reliable, and backed up by our guarantee. We only deal with out of warranty repairs on the Macbook, Macbook Pro and Air, as well as the Mac Pro, and Mac Mini. We also cover vintage Mac models like the G3, G4, and G5. We feel we are able to offer the most competitive prices as in many case our technicians can go beyond the conventional standard repairs carried out by many workshops and provide Mac repair up to component level repair. Our Mac repair services is also available in the comfort of your own home, or business surroundings. Quality repair, support service for your Mac in London.
iPhone Repair London

Professional iPhone repair in London by our expert repair team. from cracked screen, to water damaged iPhone's, we have the a cost effective solution at affordable rates. Satisfaction guaranteed with our on-site (we come to you) repair service in London. Imagine having one of our certified technicians with you within hours fixing your iPhone 4S, 4, 5, or classic 3G, or 3GS. We are also happy to announced we are able to repair the iPhone 5S with Touch ID, and the coloured iPhone 5C. We now also provide screen and general repairs to the iPhone 6, iPhone 6 Plus, and the new iPhone 6S and iPhone 6S Plus When we come to you and repair your mobile, there is no call out fee! The only thing you pay for is the repair and the part, and nothing else.  We also replace home buttons, volume buttons, vibrator unit, and anything else your iPhone may need. We only use high quality parts. iFixExpress provide the same high quality service at a fraction of the price paid direct. All of our iPhone repairs come with warranty. Fast, affordable, on site on off site iPhone repair in London. Try us out today.
iPad Repair London

Broken iPad? Why not try the ultimate in express iPad repair in London services by iFixExpress. skilled technicians able to fix a wide range of iPad original, iPad 2, iPad 3, as well as the iPad Mini iPad Air, and iPad Pro repair services. Cracked screens, Liquid damage, replacement  home, power, and volume buttons. New dock connectors, or iTunes error code solutions. The fast and affordable On-site and In-Store iPad repairs throughout the south of England. Mobile iPad repair services to your door – same day, while-u-wait. Most services can be carried out within 1 hour. Have you dropped and broken your iPad screen? The iPad screen repair is our most called out repair service in London. Our technicians have repaired 100's of iPads, so experience in the repair procedure is extremely high. Hardware repair to software diagnostic we can help.
iPod Repair London

The Apple product that started that started the craze! The iPod. We still cover a selection of services the the iPod, including iPod screen repair and replacement, new battery's, and headphone jacks. Models covered include the 1st, 2nd, 3rd, 4, and 5th generation iPod Touch. The iPod Nano, as well as vintage iPods like the Classic and the Mini. If you are still attached to your old iPod have no fear, we are able to source vintage parts still for earlier models. We fond quite a few customers still have old iPod that they want to keep as the music collection it holds is the only copy they own. If this is the case doe you, or maybe another reason then drop us a line today. We can provide a fast turn around for your iPod repair in London, Essex, and Kent with our we come to you service. High quality,while-u-wait, professional iPod repair in London.
We Come To You! – No Call Out Fee! – iPhone, iPad, iPod, Macintosh Repairs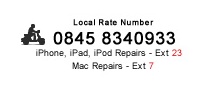 Elite Local Independent mobile repairs across London, Essex, and Kent (We can come to you) for the Apple iPhone, iPad, and Mac. iFixExpress are here to help with every type of home or business on site service. screen replacements, data recovery, upgrades, and support. Our dedicated iFixExpress Technicians are here to help. With some many companies offering these services its important to use a nationwide  independent professional company you can trust. Our to your door repair service is available daily with no call out fee. in some areas we are able to offer a 1hr emergency response, and in most other areas covered the very same day up to 6pm. As we offer this mobile service we cover all areas listed throughout the website. As well as walk-in repairs at our branches nationwide. For a professional express, independent iPad, iPhone, iPod and Mac repair or support  service at a great price, contact us today. Find us on the webs best web directories , This site is listed under Technical Support and Services Directory. iFixExpress are also happy to recommend The Apple Geeks for Apple colorization and full customisation of all Apple goods.